CTS offers a variety of rental equipment to meet your job site's vertical access needs. We offer; construction hoists, transport platforms, personnel manlifts, and tower cranes. Our turnkey rental services will ensure that your project runs smoothly from start to finish. Contact us today to discuss your project needs. Please call Robert Kohler 757-478-0873 or email at rkohler@cranetechsolutions.com
CONSTRUCTION ELEVATORS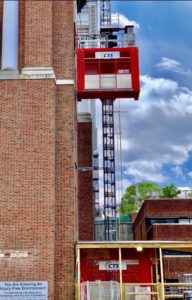 Some call them a construction hoist, construction lift, buck hoist, or temporary elevator and CTS has a solution for your project. Our rental fleet is comprised of Stros and Champion brand construction hoists, including a variety of sizes and capacities for commercial and industrial applications.  We offer turnkey rental services including construction hoist rental, installation, dismantle, operator training, and preventative maintenance. Our rental hoists are ANSI A10.4 code compliant. The CTS team is ready to visit your site and discuss your project specific requirements.
Additional Offerings
Hoist Loading Docks
Erection, Jump and Dismantle Cranes
Hoist Operators and Standby Technicians
Common Tower and Runback Structures
Stamped Drawings
Hazardous Environment Capabilities
Hoist Operators
We offer daily on-site standby technicians and trained hoist operators to run the hoist. Our operators fulfill state requirements, and trained to trouble shoot simple maintenance issues. We find this advantageous to our customers because down time is minimized.
TRANSPORT PLATFORMS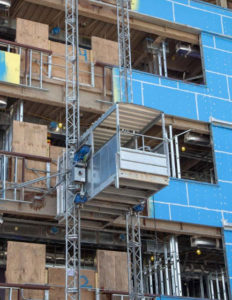 Our transport platforms are a great alternative when traditional construction hoists do not fit your project requirements. The transport platform is designed to move men and materials in a similar fashion to a construction hoist, but it has a smaller footprint and is rated for lower lifting capacities (up to 4,400 lbs.). The lower capacity reduces building loads, which can be beneficial when tying into scaffolding or wood frame buildings. Transport platforms can also be more cost effective, because the installation and dismantle are less labor intensive and do not require the use of a crane. Our transport platforms are ANSI A92.10 compliant.
TOWER CRANES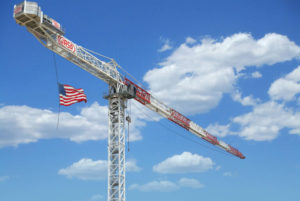 CTS offers JASO and Peiner Terex tower cranes. Currently, CTS offers the following cranes: J145, J168HPA luffing tower crane, JASO J560, SK415's and SK575's.
Our local service technicians ensure quick response time to service issues as they arise.
Please call Robert Kohler 757-478-0873 or email at rkohler@cranetechsolutions.com