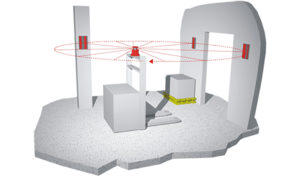 HG 43600 ZA/WA/YA/XA SERIES LASER SCANNER
Most vehicles used for internal transportation are more or less guided by a fixed system. This includes rail-bound systems as well as systems that are guided by an inductive wire. Using inductive transponders within the track already offers more flexibility; However, navigation via laser scanners has proven to be even more advantageous.
Our laser scanner system HG G-43600-A enables very flexible guidance of a vehicle. Apart from the necessary reflection marks, the vehicle is more or less guided autonomously, depending on the program. In connection with sensors for obstacle detection (ultrasonic or optical systems), the vehicle can then be guided to its destination using alternative routes.
Within the entire scope of the path, the vehicle's position is checked frequently at a high measuring rate to guarantee reliability. The positioning accuracy is good enough so that it even meets the higher demands that are required when transferring loads automatically. For accurate position determination additional rotary encoders are necessary.
ZA/WA
SENSOR ONLY ANGULAR DATA
Provides direct angular position and width information of the laser's surroundings. Detected reflections during each rotation:
ZA – Up to 65536 increments / 360°
WA – Up to 2048 increments
The customer's PLC processes the measured data.
YA
ANGULAR DATA AND BAR CODE
Provides angular information of target angle and width as data sets. In addition the HG 43600 YA can identify 7 different types of coded targets (similar to bar code). This is especially useful for the startup of an AGV in a large jobsite, to ease identification of the actual vehicle location.
XA
GUIDANCE COMPUTER
This unit includes a guidance computer in the same housing as the scanner. Customers are able to store the location data of up to 250 laser – targets on the guidance computer, mapping a model of the surroundings. The HG 43600 XA uses its laser-scanned data and additional odometric data from the AGV (wheel rotations left/right, steering angle) to provide the vehicle position and orientation as X/Y coordinates and direction angle. Customers rely on GOETTING's proven algorithms for the positioning subsystem and can free PLC capacity and software design capacity to concentrate on the actual AGV functionalities.
TECHNICAL FEATURES:
Easy site preparation: Inexpensive targets are mounted on walls, posts etc. and digital mapping data of the surroundings are collected.
Software-only reconfiguration of the vehicle's path – alternative paths can be programmed to circumvent obstacles etc.
The GOETTING laser offers a precision of ± 0.2″ based on reading 4 targets at angles exceeding 15 degrees, distance to targets not exceeding 49 feet. This precision is sufficient for loading and coupling operations.
Night and "lights out" operation is no obstacle.
Laser scanner guided AGVs reliably operate with speeds up to 6.7 mph [3 m/s].
Bright light sources and reflective material may pose challenges, if located in the same heights as the targets (e.g. reflective glossy paint, windows, welding, glass surfaces, chromed/polished items).
Outdoor operation requires specialized laser units (Limited use only).
Laser guided vehicles need a clear line of sight to their target. Environment with high contents of airborne particles obscuring targets, e.g. dustclouds, waters pray or fog are challenging.
The optical system of the laser must stay clean, challenges include paint spray, mud or fluids.
TECHNICAL SPECIFICATIONS:
No rotating outside parts
Weatherproof IP67 (similar NEMA 4)
Service Interface RS 232 for configuration using laptop and service software
Class 1 laser considered "eye-safe" by OSHA and FDA
Dimensions: Diameter 5.9″, heights 5.6″, weight approximately 5.5 lbs
Temperature Range: – 13 °F (with heater) to 122 °F
Power Supply: 18V – 36V DC , model ZA/XA: 0.6A, model XA 0.9A (heater not included)
Laser: 1 mW, class 1
Range: 3.3′ to 98′
Update Rate: 6 to 18 times per second
Angular Resolution: Up to 65536 increments / 360°
HG 43600 ZA
Output of detected reflections (allows to calculate target position and width).
Data Interface: Several output pins provide a digital HIGH if a reflection is sensed and pulses from the scanners rotary encoder as well as "detect" events.
HG 43600 YA
Output of filtered angular position (target position and width) and identification of 7 different target types in data telegrams
Data Interface: Serial RS 232 (RS 422, RS 485, CAN Open possible)
HG 43600 XA
Output of vehicle position as X/Y coordinates and vehicle orientation. Ori-entation computer integrated, Identifies 7 different types of targets, holds "map" of surroundings by storing up to 250 target positions, utilizes data inputs from wheel / steering encoder
Data Interface: RS 232 serial interface output, CAN Open
HG 43600 WA
Similar to HG 43600 ZA but with up to 2048 increments per revolution (programmable) sent out as individual pulses, data output on a RS 422 interface. Different location of cable connectors.